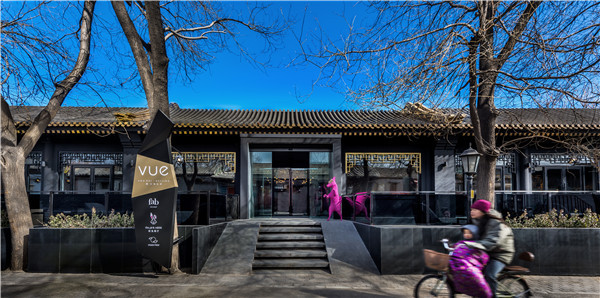 VUE, a new luxury hotel, offers sophisticated diners a place away from the hustle and bustle of the Houhai area where it is located. [Photo provided to
China Daily
]
A new cafe in Beijing's Houhai offers diners a chance to experience what happens when foods with different textures and flavors come together. Xing Yi reports.
Beijing's Houhai area is always crowded with tourists, but the new luxury hotel VUE offers sophisticated diners a place away from the hustle and bustle to sip afternoon tea and savor Spanish tapas.
The noise of the crowds and honking horns fade away as I stroll down the hutong (alleyway) in front of the Prince Gong's Mansion.
Hidden among the surrounding gray brick courtyard houses, the hotel's Fab cafe and bakery sits along the alley between the former residence of the Qing Dynasty (1644-1911) prince and Houhai Park.
It's a peaceful oasis in this tourist hot spot.
Ignasi Prats is the chief baker and chef.
He grew up in a Spanish family that has worked as bakers for three generations. And he has worked in an acclaimed restaurant with three Michelin stars, El Celler de Can Roca, in the city of Girona in northern Spain.
"When my grandfather started the bakery in Barcelona in the 1950s, bread and pastries were grab-and-go food," says Prats.
"Combining a cafe with the bakery came later."
The name Fab stands for flour and beans, the ingredients for pastries and coffee.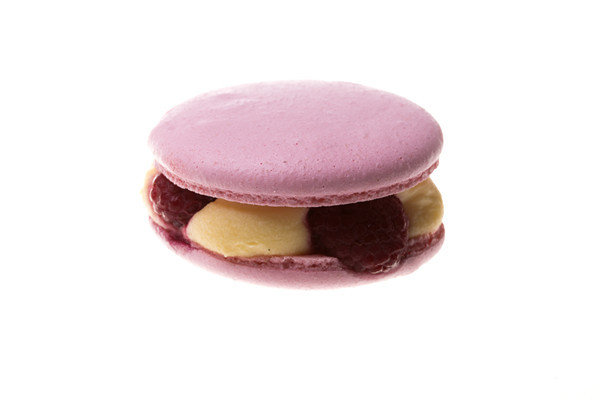 Rose raspberry macaroons are a highlight of Fab's menu. [Photo provided to China Daily]
The cafe provides European pastries such as Swiss rolls, rose raspberry macaroons and blueberry cheesecake, at 30 to 40 yuan ($4 to $6) each. A cup of a double espresso costs 19 yuan, and a cup of Americano is 25 yuan.
"We want to be part of the local community," says Andy Mok, vice-president of the hotel, explaining that they want the cafe to be a place where hotels guests can socialize with locals.
I had a cup of Americano with Mont Blanc, which is a cone-shaped pastry coated with chestnut cream, and stuffed with blueberry and sponge cake. A caramelized chestnut is on the "peak".
The hotel's Pink Rabbit restaurant in the backyard is more upscale.
With Prats in the kitchen, the restaurant features innovative Spanish cuisine.
Before arriving in Beijing in 2016, Prats worked in El Celler de Can Roca, which was twice selected as the world's best restaurant by Restaurant Magazine, and then in the Ritz-Carlton in Barcelona.
Prats likes to create new dishes.
He says that part of the reason he left the Ritz-Carlton hotel is that: "Five-star hotels don't give you the freedom to create something new."
For me, eating Spanish tapas is a journey full of fun and surprises.
To start, I had The Cone, which is goat cheese put in mini basil cones with pistachios inside and strawberries on top.
It looks like an icecream but tastes salty at first, and then leaves a sweet flavor in the mouth.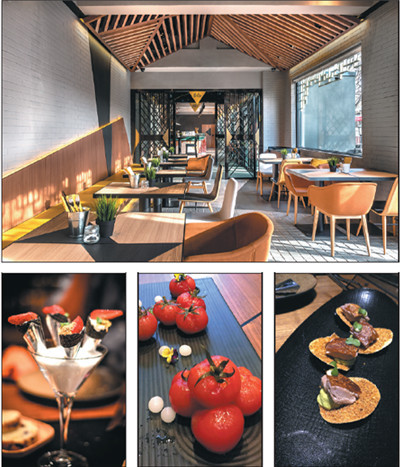 Clockwise: Fab cafe and bakery is a peaceful oasis at the hotel. The Pink Rabbit restaurant menu features Pig Bite, Lychee Tomatoes and The Cone. [Photo by Xing Yi/China Daily]
The second dish, Lychee Tomatoes, is not a new type of tomato. Rather, it is prepared by marinating peeled cherry tomatoes in lychee juice, making it a refreshing summer snack.
"Lychees are my favorite food in China, but they're not very common in Spain," says Prats. "So, I used this technique to change the flavor of the tomatoes."
Pig Bite is another signature tapa by Prats.
It's small bits of roasted suckling pig put on corn crackers with smashed avocado and cranberry jam underneath.
The crispy pig skin and the crackers sandwich the tender pork.
If those dishes don't satisfy the stomach, you can order Spanish seafood rice ($42 for two people) or Australian ribeye steak ($57 for 350 grams).
For dessert, I had a Pina Colada, a white chocolate pudding named after a cocktail.
A pineapple capsule, a coconut marshmallow, almond flakes and mango jelly constitute the different layers of the "cocktail" pudding.
"I like to put food with different textures and flavors together," says Prats. "It's about the balance of different textures and tastes.
"Parents always tell us not to play with your food, but here you can play with different ingredients to get your own creative bite," he says.
The above news content from China Daily.
Faucets and fixtures for bathrooms and kitchens
Are you looking for high-quality bathroom sink faucets or bathtub faucet? Do you need a new kitchen sink faucet? Or maybe an elegant thermostatic shower? Under www.hmkglobal.com , you can also find showers, shower pipes and shower systems for your bathroom. All products are of the highest quality with a design to match.