Ombudsman criticizes FEHD over fruit, vegetable screening
Issue Time:2017-11-22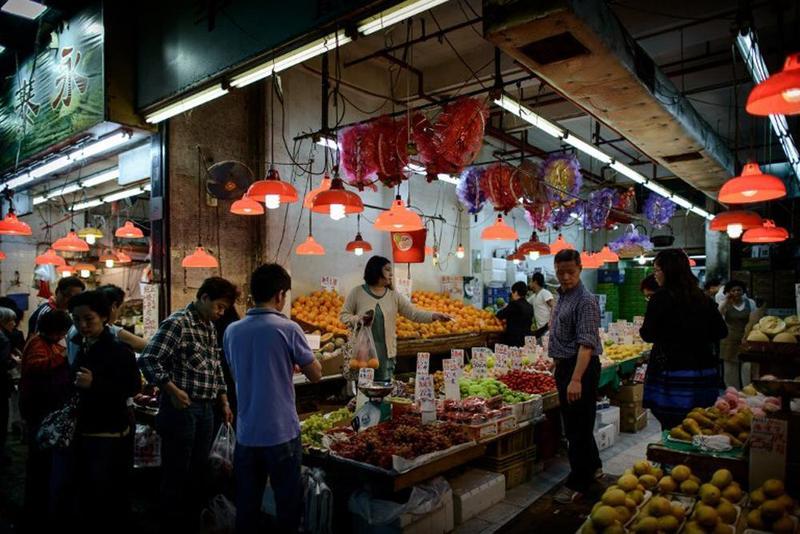 People shop for fresh fruit in a street market in Hong Kong on April 1, 2014. The Food and Environmental Hygiene Department had exercised too little control over fruit and vegetable imports, the government watchdog said on Nov 13, 2017. (PHILIPPE LOPEZ / AFP)
HONG KONG – The government watchdog on Monday said the Food and Environmental Hygiene Department (FEHD) had exercised too little control over fruit and vegetable imports.

A direct ombudsman investigation found that more fruit trucks should have been inspected by the Man Kam To Food Control Office, where most fruits and vegetables imported by land are examined.
Fruits and vegetables entering the market before undergoing any inspection was undesirable

Ombudsman Connie Lau Yin-hing
The high traffic volume at Man Kam To meant only goods placed near the doors of storage compartments are taken as samples; vegetables placed deep inside storage compartments can easily evade inspection.
There is also no routine inspection of fruits and vegetables imported by sea upon arrival. Samples are only taken when they are being sold in markets.
Ombudsman Connie Lau Yin-hing said fruits and vegetables entering the market before undergoing any inspection was "undesirable".
Following the ombudsman's investigation, the FEHD has started a pilot scheme in recent months to conduct sampling tests of fruits and vegetables imported by sea at the importer's warehouse or cold storage.
Lau pointed out that while test results of samples taken at Man Kam To office or other emergency cases can be available in two working days, results for all other samples can only be released after 19 working days. By this time potentially unsafe fruits and vegetables are liked to have been consumed.
She urged the FEHD to put more resources into the Government Laboratory to speed up tests on food samples.
During the investigation, the ombudsman also found out that the regulations on metallic contaminants have not been updated for 20 years. For example, the upper limit of lead in leafy vegetables by Codex's standards, a collection of internationally recognized food standards, is 0.3 milligrams per kilogram. But Hong Kong has set the maximum limit at 6 mg per kg, 20 times the international standard.
The government has recently proposed legislative amendments in accordance with Codex's standards.
The above news content from China Daily.
Faucets and fixtures for bathrooms and kitchens
Are you looking for high-quality bathroom sink faucets or bathtub faucet? Do you need a new kitchen sink faucet? Or maybe an elegant thermostatic shower? Under www.hmkglobal.com , you can also find showers, shower pipes and shower systems for your bathroom. All products are of the highest quality with a design to match.